A hotel app is a guest experience solution designed to improve the overall experience of hotel guests by providing a range of features that help boost guest satisfaction and increase revenue. Hotel apps typically offer a wide range of features and functionalities, including but not limited to mobile check-in and check-out, room service ordering, messaging, and personalized recommendations.
What is a good hotel app?
A good hotel app is an essential tool for hotel management to enhance the guest experience and increase efficiency. The app should be affordable for the hotel to invest in without hurting their budget, user-friendly to ensure seamless adoption by hotel staff, and help with the day-to-day tasks of hotel management.
In addition to helping with hotel management, the app should also be designed to be easy to use for guests. Guests should be able to navigate the app intuitively and access all the necessary information about their stay, such as check-in and check-out times, room details, and local recommendations, without any confusion. To make the app even more accessible, it is ideal for the app to be a web application, so that guests can access it from any device with internet access without needing to download and install a separate app.
What does a hotel app do?
A hotel app elevates the guest experience and optimizes hotel operations. With features such as online check-in, a welcome page (this feature replaces paper brochures), ordering, messaging, feedback forms, and upsell opportunities, a hotel app provides a comprehensive solution that benefits both guests and hoteliers.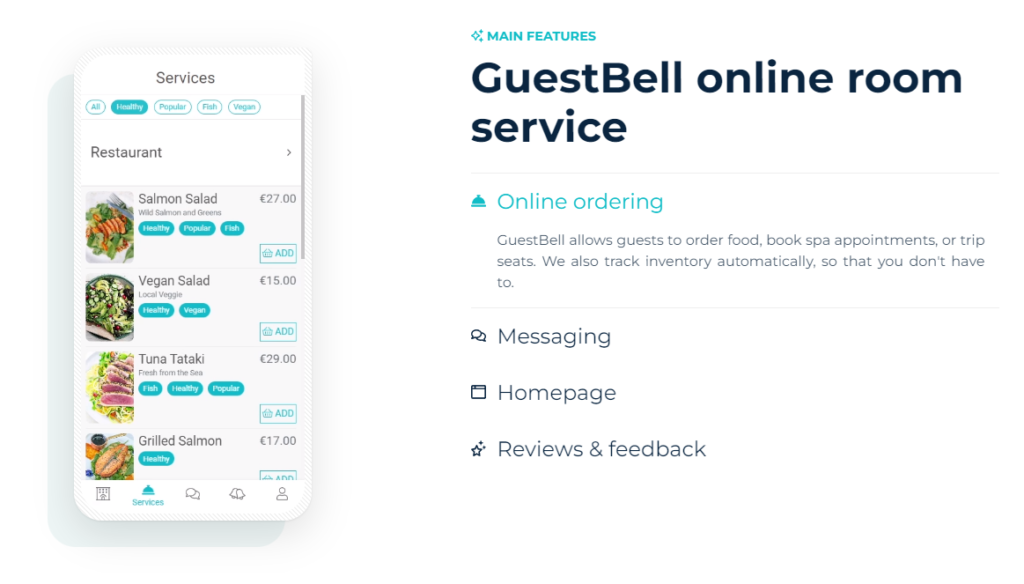 Why do hotels need an app?
Hotels need an app to provide a seamless and convenient guest experience, streamline hotel operations, stay ahead of the competition, and increase revenue. An app can help guests easily access information, communicate with staff, and make requests, while also providing upsell opportunities.
By providing a modern and convenient experience, a hotel app can help to differentiate a hotel from its competitors and build a loyal customer base. Read more about the advantages of using guest experience solutions.
How much does a hotel app cost?
The cost of a hotel app can vary widely depending on the specific features and functionalities it offers, as well as the provider. Some providers offer a one-time fee, while others charge a monthly or annual subscription fee.
The cost can also depend on the size of the hotel and the number of rooms. Generally, a basic hotel app can cost a few hundred to a few thousand dollars, while more comprehensive solutions can cost tens of thousands of dollars or more. It is important for hotels to carefully evaluate their needs and budget when considering a hotel app provider.
GuestBell offers a freemium version that allows hotels to create the entire app for free. With the freemium, guests can view a welcome page that replaces traditional paper brochures, and they can access hotel's services and amenities.