In an era where travelers are increasingly dependent on digital resources, ensuring guests have access to vital information about their stay is of utmost importance. In the past, hotels and Airbnb hosts would use paper brochures and leaflets to inform guests about amenities, local activities, check-in and checkout times, and other essential details. However, these printed materials not only incur high costs and difficulties in updating but also contribute to environmental waste.
What is a Hotel Brochure?
A hotel brochure is a printed or digital document that provides essential information about a hotel, resort, or similar accommodation. It typically includes details such as room types and rates, on-site facilities, dining options, nearby attractions, and contact information. The primary purpose of a hotel brochure is to showcase the property's features and services, enticing potential guests to choose the establishment for their stay. A well-designed and informative brochure can play a crucial role in attracting customers and increasing bookings, contributing to the overall success of a hotel business. In today's digital era, many hotels are opting for digital brochures, which offer numerous advantages over traditional printed materials.
Enter GuestBell's digital brochure – a game-changing solution that offers real-time updates, personalization, multimedia capabilities, and multilingual support, allowing guests to access information in their preferred language. This innovative tool enhances the guest experience while promoting sustainability. In this blog post, we will explore the features and benefits of GuestBell's digital brochure for both hotels and Airbnb hosts and guide you through the process of creating your own engaging digital brochure to elevate your guests' stay.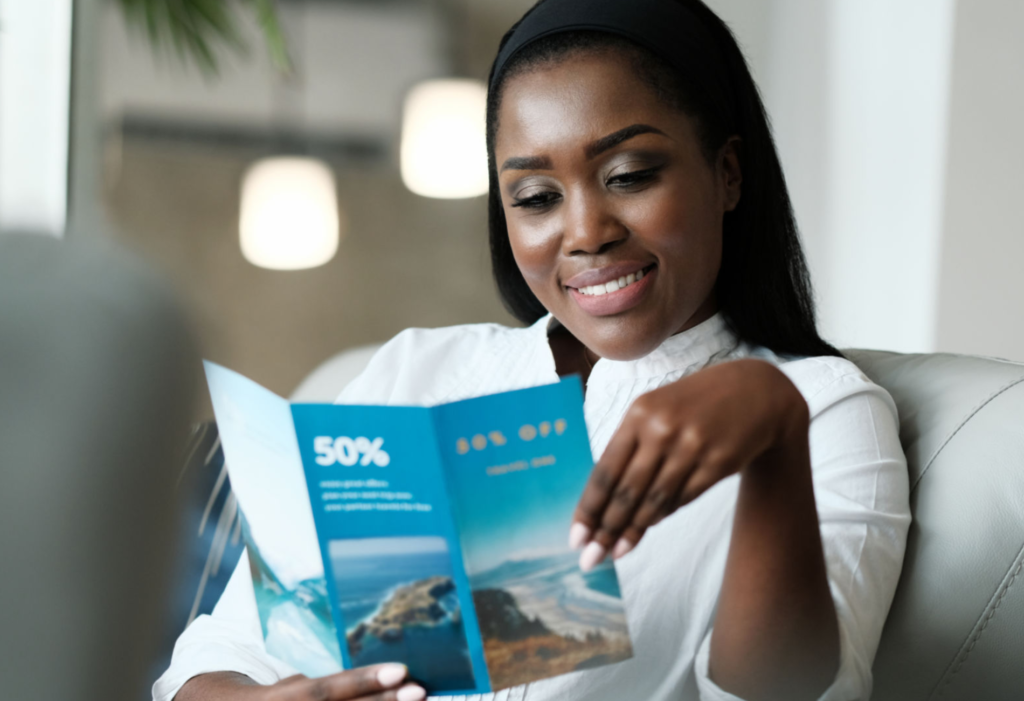 GuestBell's Digital Brochure: Features and Benefits
Real-time updates and customizable content
One of the standout features of GuestBell's digital brochure page is the ability to update and customize content in real-time. This means that hotels and Airbnb hosts can instantly modify information, ensuring that guests always have access to the most accurate and up-to-date details about their stay. Whether it's adjusting check-in times or updating amenity listings, GuestBell's digital brochure provides a flexible and efficient solution for content management.
Personalization and special promotions
With GuestBell's digital brochure, hoteliers and hosts can create personalized content tailored to individual guests, enhancing their overall experience. In addition, special promotions and limited-time offers can be easily shared through the digital brochure, enticing guests to take advantage of exclusive deals during their stay. This level of personalization not only improves guest satisfaction but also helps to drive revenue for the hotel or host.
Multimedia capabilities for enhanced engagement
GuestBell's digital brochure goes beyond traditional text-based content by offering multimedia capabilities such as images, videos, and interactive maps. This rich, engaging content allows guests to better visualize the hotel's offerings and local attractions, making it more appealing and informative than static printed materials. By incorporating multimedia elements, hoteliers and Airbnb hosts can create a more immersive and memorable experience for their guests.
Eco-friendly and cost-saving alternative
Switching to a digital brochure not only enhances the guest experience but also contributes to environmental sustainability by reducing paper waste. Moreover, GuestBell's digital brochure eliminates the need for costly printing and reprinting of promotional materials, resulting in significant cost savings for hotels and hosts. By embracing this eco-friendly and cost-effective solution, hoteliers and Airbnb hosts can make a positive impact on both their bottom line and the environment.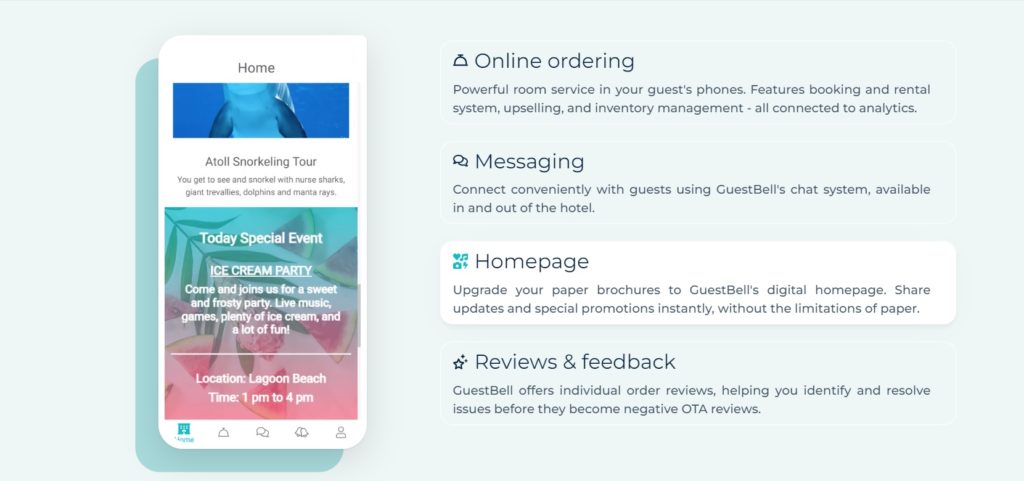 Advantages of Digital Brochure for Airbnb
Sharing essential information and house rules
One of the key benefits of GuestBell's Digital Brochure for Airbnb hosts is its ability to effectively communicate essential information and house rules to guests. This ensures that guests have a clear understanding of their responsibilities and expectations during their stay, reducing the likelihood of misunderstandings or conflicts. By providing this information in an easily accessible digital format, hosts can ensure that guests are well-informed and feel comfortable in their accommodation.
Remote communication with guests
GuestBell's Digital Brochure also facilitates remote communication between Airbnb hosts and their guests, allowing hosts to provide important information and address any guest inquiries without needing to be physically present. This is especially useful for hosts who manage multiple properties or those who are unable to meet their guests in person. With the digital brochure, guests can access all the necessary information about their stay at their fingertips, making their experience more seamless and enjoyable.
Easy content creation using ready-made templates
Creating a compelling and informative digital brochure has never been easier, thanks to GuestBell's ready-made templates. Airbnb hosts can simply choose a template that suits their needs and customize it with their property's information, images, and other relevant content. The user-friendly interface makes it simple to create an engaging digital brochure that will impress guests and provide them with all the information they need for a memorable stay.
How to Create a Digital Brochure with GuestBell?
Choosing a suitable template
The first step in creating your digital brochure with GuestBell is to select a template that best matches your hotel or Airbnb property's style and branding. GuestBell offers a variety of templates, designed to cater to different types of accommodations and aesthetics. By choosing a suitable template, you can ensure that your digital brochure effectively represents your property and appeals to your target audience.
Customizing content and design elements
Once you have selected a template, the next step is to customize the content and design elements to suit your specific needs. With GuestBell's user-friendly editing tools, you can easily add text, images, videos, and other multimedia components to create an engaging and informative digital brochure. You can also modify the color scheme, fonts, and layout to align with your property's branding. Don't forget to include important details such as check-in and checkout times, house rules, amenities, local attractions, and any special promotions or offers.
Publishing and updating the digital brochure
After customizing your digital brochure, it's time to publish it and make it available to your guests. With GuestBell, you can effortlessly publish your digital brochure, ensuring that it's accessible to guests via their preferred device. Moreover, updating your digital brochure is quick and easy, allowing you to make real-time changes as needed. This ensures that your guests always have the most accurate and up-to-date information at their fingertips, enhancing their overall experience and satisfaction.
It is essential for hoteliers and Airbnb hosts to consider adopting GuestBell's Digital Brochure to enhance their guests' stay. Its numerous benefits, including real-time updates, personalization, multimedia capabilities, and eco-friendliness, make it an invaluable tool in the ever-evolving world of hospitality.