As the hospitality landscape evolves to meet the ever-changing demands of discerning travelers, delivering a seamless and engaging guest journey has become paramount. With guests seeking personalized experiences and efficient service, hotels must adapt and leverage technology to meet these expectations. GuestBell, a groundbreaking guest experience solution, is revolutionizing the way guests interact with hotels throughout their stay, from pre-arrival to checkout.
By examining the guest journey from a guest's perspective, this article aims to explore how GuestBell transforms their experience, addressing common pain points and ensuring a memorable stay. With its innovative features and user-friendly interface, GuestBell not only enhances the guest experience but also offers valuable insights for hoteliers looking to elevate their service offerings and secure long-term success.
What Makes GuestBell the Ultimate Solution for Elevating the Guest Experience?
GuestBell offers a comprehensive suite of features designed to cater to the diverse needs of guests during their hotel stay. With its user-friendly interface, GuestBell provides guests with a personalized app that serves as an online concierge, allowing them to access various hotel services with just a few taps on their mobile devices. Key features include online room service ordering, pre-arrival check-in, a welcome page with useful information about the hotel, real-time chat support, and a user profile containing purchase history, booking details, and previous stay information. Furthermore, GuestBell's multilingual support ensures that guests from around the world can enjoy a seamless experience in their preferred language.
How GuestBell addresses common pain points in the guest journey:
Streamlined communication: One of the most common challenges guests face during their hotel stay is inefficient communication with hotel staff. GuestBell addresses this issue by providing a real-time chat feature, allowing guests to quickly and easily get in touch with the front desk or other hotel departments for assistance or inquiries.
Personalized experiences: GuestBell's app enables guests to customize their stay according to their preferences and dietary restrictions, ensuring a tailored experience that caters to their unique needs.
Pre-arrival planning: With the ability to share travel documents, pre-order dinner or room service, and check-in before arrival, guests can plan their stay efficiently, saving time and reducing stress upon arrival.
Hassle-free access to services: GuestBell's app allows guests to conveniently order services, book appointments, and rent equipment without the need for lengthy phone calls or in-person visits to the front desk.
Transparency and expense tracking: Guests can easily review their orders and track expenses through their user profile, ensuring they are aware of their spending throughout their stay.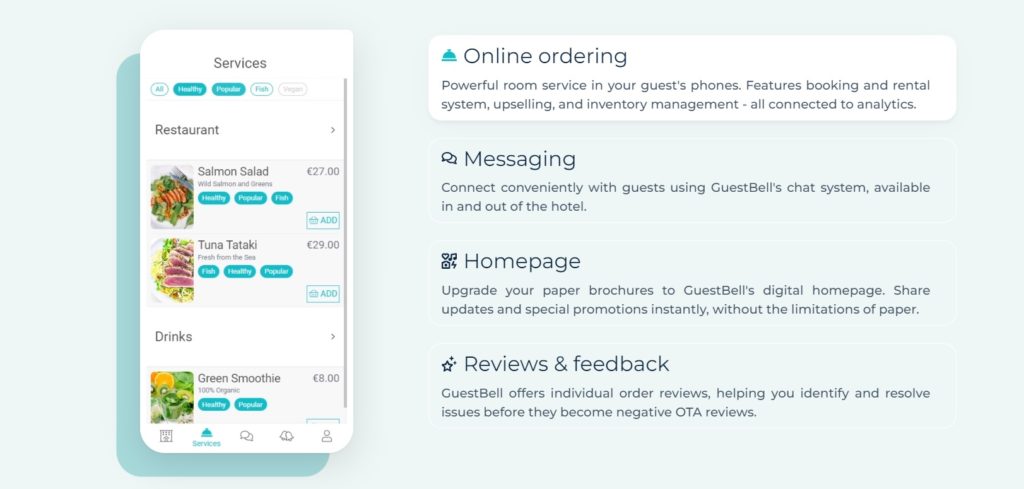 GuestBell's Impact on the Guest Journey
Pre-Arrival Stage
Sharing travel documents and pre-stay planning: Before even setting foot in the hotel, guests can securely share their travel documents with the hotel staff, allowing for a more efficient check-in process upon arrival. This also enables guests to plan their stay ahead of time, ensuring a smooth and stress-free experience.
Pre-ordering dinner or room service before arrival: Guests can browse through the hotel's dining options and pre-order dinner or room service, making sure they have a meal waiting for them upon arrival, especially after a long day of traveling.
Self check-in for a smooth and hassle-free arrival experience: With GuestBell's online check-in feature, guests can complete the check-in process before arriving at the hotel, saving time and avoiding potential queues at the front desk.
During the Stay
Personalized guest app with preferences and dietary restrictions: The GuestBell app allows guests to input their preferences and dietary restrictions, ensuring that their stay is tailored to their individual needs and providing a truly personalized experience.
Convenient access to hotel services and amenities through the app: Guests can easily explore and book the hotel's various services and amenities, such as spa appointments, restaurant reservations, or equipment rentals, all through the convenience of the app.
Efficient communication with hotel staff while in and out of the hotel: Whether they are inside the hotel or exploring the city, guests can stay connected with hotel staff through the real-time chat feature, allowing them to ask questions or request assistance at any time.
Real-time updates on orders and easy tracking of expenses: The GuestBell app keeps guests informed about the status of their orders and provides an overview of their expenses, enabling them to effectively manage their budget during their stay.
Checkout and Post-Stay
Simplified checkout process via the GuestBell app: When it's time to leave, guests can enjoy a hassle-free checkout experience through the app, allowing them to avoid any last-minute surprises or delays.
Providing valuable feedback and reviews through the app: After their stay, guests can share their feedback and reviews directly through the GuestBell app, helping hotels improve their services and overall guest experience. This also encourages open communication between guests and hoteliers, fostering a sense of trust and loyalty.
GuestBell's innovative technology and user-friendly app play a pivotal role in transforming the guest journey, making it more seamless, personalized, and enjoyable for travelers. By addressing common pain points and offering tailored experiences, hotels that implement GuestBell can expect increased guest satisfaction, loyalty, and ultimately, long-term success. As the hospitality industry continues to evolve, embracing solutions like GuestBell is crucial for hoteliers who wish to stay ahead of the curve and provide exceptional experiences that keep guests coming back for more.